Fitness apps have taken the world by storm over the past few years. Group fitness classes can be fun and often have exciting and supportive atmospheres.
However, nothing can beat the convenience of staying at home for your workout. Turbo trainers give you the most realistic workout, mimicking the exact feel of outdoor cycling without the lousy weather and random bumps in the road.
If you're a fan of the turbo trainer, you may have debated whether using an app can help boost your workout. Fortunately, plenty of these apps exist, and we've found some of the greatest ones!
Here's our guide to finding the best free turbo trainer app.
What is the Best Free Turbo Trainer App?
Considering all the great perks and workouts, it's surprising that RGT Cycling is a free turbo trainer app! This app option puts the cyclist into an outdoor cycling route using high-quality graphics that can almost trick you into thinking you're not inside your own home.
In addition to having great graphics to ride through, there are also a variety of cycling coaches to educate you during your workout and push you as far as you need to go. There are options for racing, basic exercises, and leisurely rides if you want to lean back and relax.
The basic contents of this free turbo trainer app are free. If you decide that you want to ramp up the experience and get more benefits, you can pay for a premium membership. This brings the ability to host group rides or races, and a few other community-based perks.

Endomondo
Endomondo is a cycling and turbo trainer app that is powered by Under Armour. It allows you to track your workouts, and indoor cycling is one of them. It allows both indoor and outdoor cycling, though the tracking for indoor cycling is done through manual input. However, you can also sync it with other devices to improve the analytics it shows you.
Community-based content is a user-favorite component of many fitness apps. Endomondo gives you the ability to share all your workouts with friends. This is great if you like to feel like you have people holding you accountable, inspiring you to stick with your workout plan. You can also compete against them, share photos, and make friends through a passion for cycling!
Endomondo is a free app, and you can use the majority of its features without paying. If you choose to update to the paid version, you can receive training plans and other advanced functions.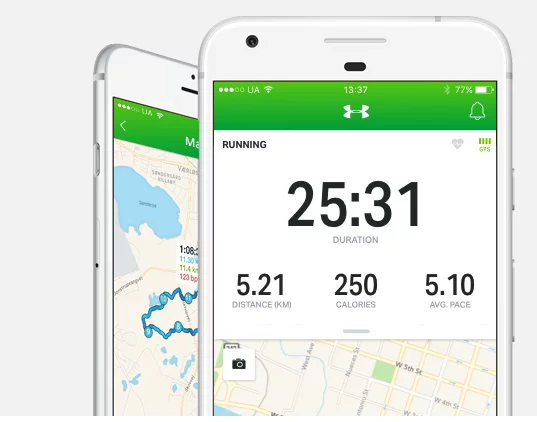 Turbo Trainer Apps That Aren't Free, But Worth It
Zwift
Zwift is often considered the ultimate indoor cycling and turbo trainer app out there. It's well-known worldwide and has one of the largest online communities of any fitness app. Its success has come from good reason: it's a great app!
This turbo trainer app shares virtual worlds with the cyclist. Additionally, you can choose between riding alone or with a group, whether you want to race or ride for fun. You can follow structured workouts through the app to boost your speed, agility, and confidence riding, or ride at your own pace.
Whether you love working out alone or with a squad, Zwift will have an option that works for you. The Zwift community is made up of like-minded others who share the desire to reach your goals. Zwift also has regular events and challenges to push you even further.
Zwift will cost you a fee, but you can test it out for 30 days before making a commitment. Their website also has a shop to buy Zwift-branded fitness merchandise, like t-shirts and water bottles. They also provide recommended turbo trainers and related accessories.

Trainer Road
Trainer Road is another common app in the world of indoor cycling and turbo trainer use. Rather than focusing on the graphics and making you forget you're indoors, this app is all about watching your progress.
Through Trainer Road, you can follow along with specific workout plans that are unique to your goals. These plans can be adapted for specific racing locations, distances, and terrains. So, if you want to race an Olympic triathlon, there's a plan for that!
Hardcore training can require some important gear. This app will ensure that you have all the right stuff through their equipment checker. They also have specific products that you can order to use during your training.
You can choose to pay monthly or annually at a discounted rate for Trainer Road. They're so confident that you'll love it that you can get your money back within 30 days if you aren't satisfied. While it may not be a free turbo trainer app, it's definitely one that's worth your time and money.

Download The Apps
Have any of these apps caught your eye? Download any of the listed turbo trainer apps below.
There's no denying that some fitness apps are pricey but well worth it. If you're willing to open up your wallet to help improve your turbo trainer workouts, we recommend Zwift.
It has built up a very strong reputation for itself over the years and provides you with countless perks. However, we all know that nothing beats an app that's so budget-friendly that it's free.
Endomondo is great for its community aspect, but we have to give the title of the best free turbo trainer app to RGT Cycling. It's great for training, personal motivation, and accountability. And again, nothing beats free!