Have you ever felt like your workouts aren't helping you see the progress that you desire?
Do you often debate paying for a personal trainer, but can't find room for it in your budget?
When you're putting the work in, but not seeing the results, it's easy to feel down about your fitness journey.
Fortunately, we live in an age where smartphones and the internet have the answers for almost everything! So, instead of spending money on an expensive gym or weekly training sessions, here are the best apps for spinning available today!
So, pull your stationary bike or turbo trainers out, load up your new spinning app, and get ready to sweat.
The 6 Best Spinning Apps on the Market!
1. The Sufferfest: Complete Cycling and Triathlon Training App

This fitness app offers both cycling and yoga-for-cyclist workouts on iOS, Mac, and Windows. With over 50 workouts to choose from, you're sure to find one that works for your routine. Sufferfest uses footage from real cycling races, so you can pretend that you're out there with the best of them, competing for gold.
This app is true to the name, and wants you to get a brutal workout in. The app allows you to track your data by connectivity options for heart-rate monitors, smart trainers, and power meters, so you can track all your progress.
The Sufferfest offers a free 7-day trial. If you like it (which we're sure you will!) the app only costs £10 per month.
Download App:
2. Flywheel Sports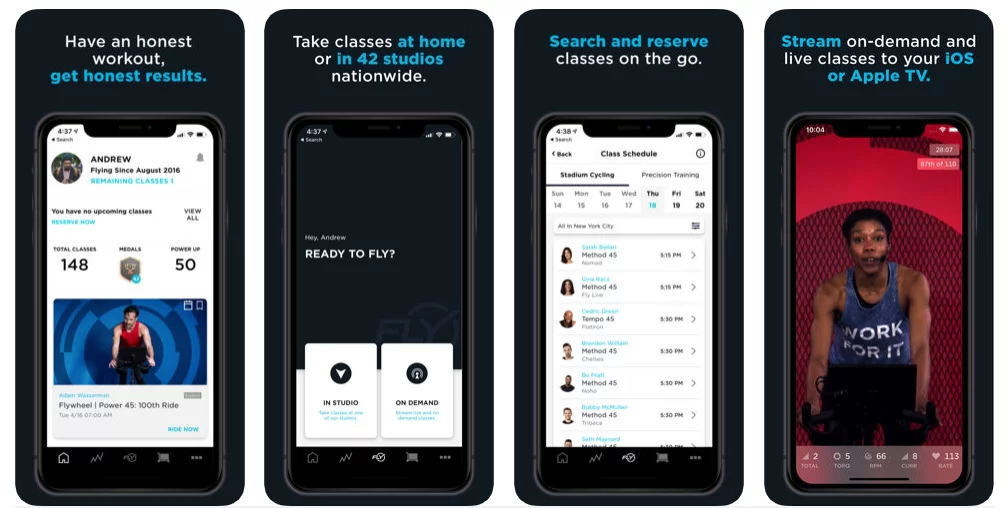 Flywheel Sports is unique in that it offers in-class cycling training or at-home classes via your smartphone. So, whether you're in the mood to head to a gym, or just want to spend the night at home working out on your own time, Flywheel has you covered!
The app makes you feel like you're in a class, while staying in the comfort of your own living room. Get ready to be motivated, because this app offers training programs for people at all stages of their fitness journeys!
Flywheel sports is free to download the app, but subscription prices vary by plan. Fortunately, you can pay monthly. This means that you have plenty of time to decide if it's the right app for you!
Download App: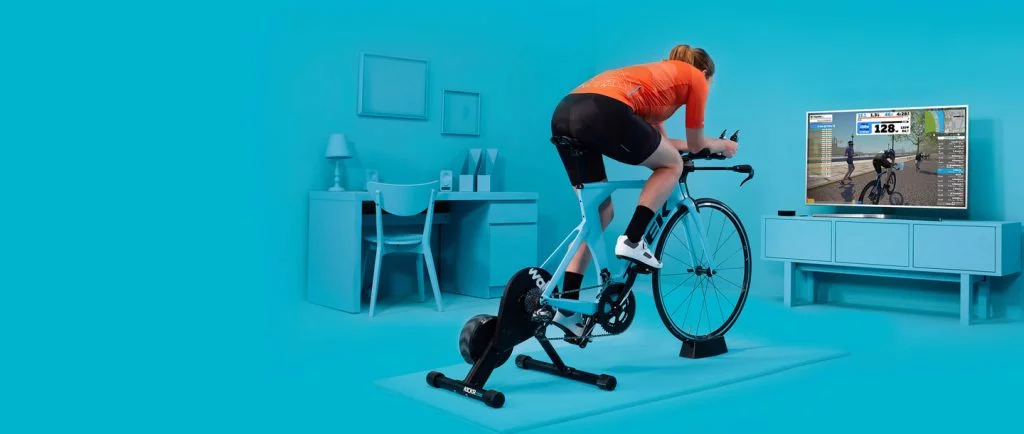 Image courtesy of Zwift
Do you love the social aspect of spinning, but can't always make it out of the house to meet up with fellow bikers? Well, Zwift has you covered! Zwift is all about the social aspect and monitors your data and progress to compare you with other cyclists.
So, not only do you get a sense of community, but you also get to participate in some friendly competition! You can also access virtual cycling tours and courses through the app, with computer-generated graphics.
Zwift costs £10 per month after completing a free 7-day trial.
Download App:
4. Exercise Bike Workout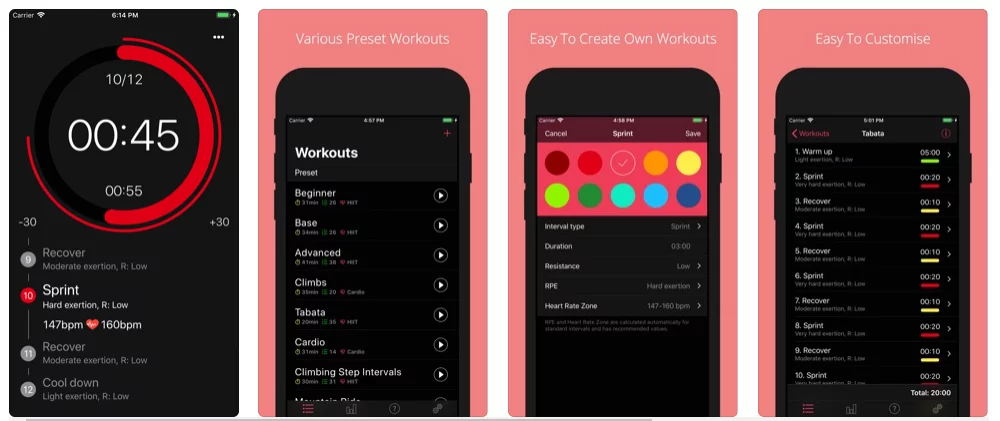 This easy-to-use spinning app helps you get your sweat on while simplifying your workout. This can be especially helpful to newer cyclists, or those who just want to get a routine made for them.
Exercise Bike Workout specializes in HIIT (high-intensity interval training) workouts, so its perfect for those looking to burn calories and slim down. With sound, voice, or vibration prompts, you'll be encouraged to keep working hard no matter how motivated you are to start.
Exercise Bike Workout is free to download and has additional in-app purchases to take your workout to the next level.
Download App: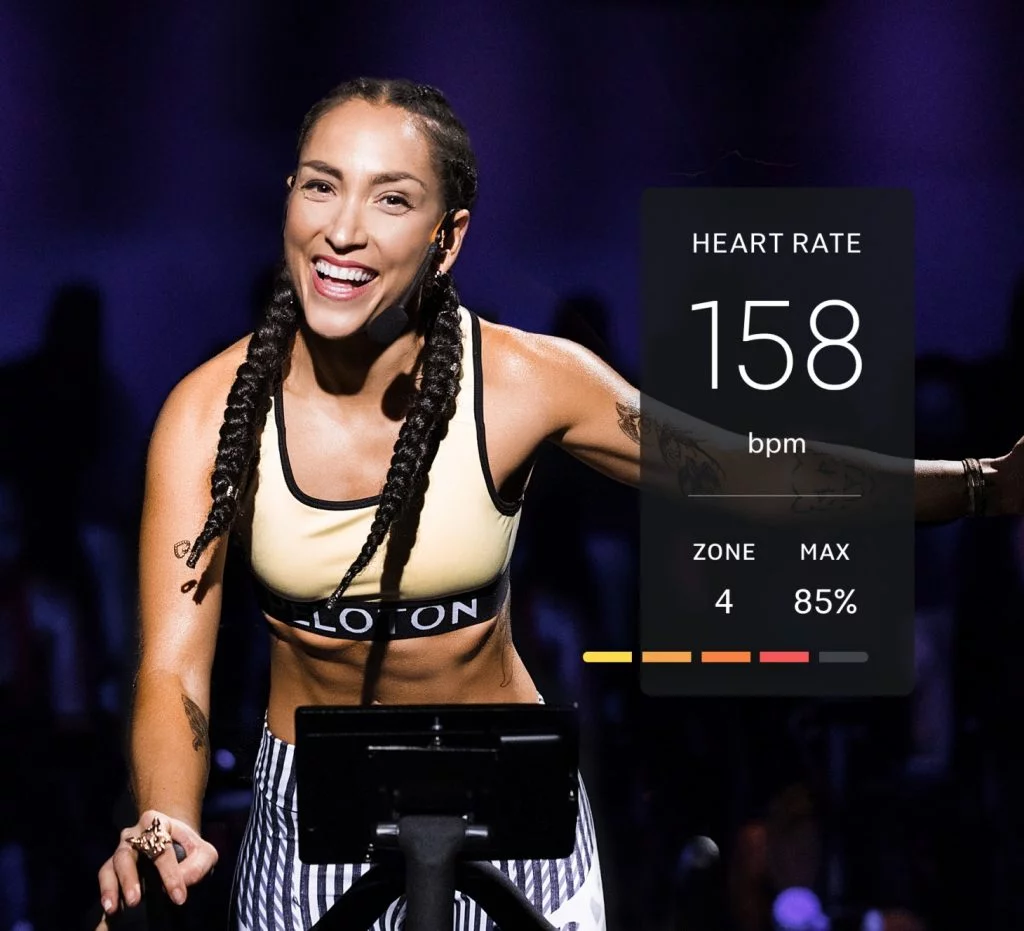 Image Courtesy of Peloton
If you're looking for something a little more hands-on than the rest of this list, than Peloton has you covered.
Though it is pricier than the rest, Peloton will make you feel like you're in a full cycling glass in a fancy studio. Daily workouts are live streamed for you to watch and ride along with.
Peloton has a studio in New York, and the gym's instructors will give you personalized coaching and instructions for your workouts during their set cycling class times.
You're also able to compare your performances to other Peloton users who are accessing the same live workout as you. And if you're in the mood to workout at random hours when a class isn't going on? Then you can access a library of other streaming workouts.
Peloton will sell you a special branded bike and accessories so that you feel even more apart of the gym environment.
After the $2000+ start-up cost, you'll have to continue with a $39.99 per month membership. Though it may seem like a pricey purchase, it's great for those who incorporate indoor cycling into their every day lives.
For those who don't want to pay such a heavy start-up cost, you can select a different plan that does not include all the personalization included with the original Peloton bike purchase. This one will still run you $39.99 per month.
Download App: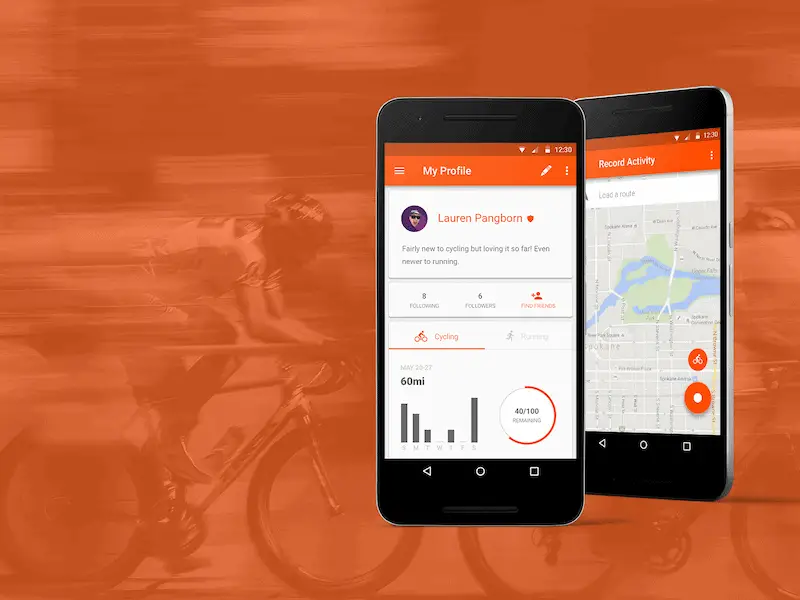 Image courtesy of dribbble.com/Pinteret
Strava is one of the most well-known apps for both cycling and running. It will record your outdoor activities and give you a thorough analysis of your stats to help you train.
For those who purchase a membership, you can even have personalized plans. These will help you train for races or other cycling events, or just help you achieve your dream distance.
With Strava, you can also compare your stats to other cyclists and runners in your area and compete for badges together to keep you motivated.
Strava is free to use if you want to stick to the basic functions for a spinning app. If you're looking or customizable plans and motivation to keep up with your progress, plans can cost as little as £5 per month.
Download App:
Spinning is a great activity to participate in as a group. While spin-classes and indoor cycling groups can be great, it's not always feasible for all those spin fanatics out there.
Whether your schedule isn't flexible enough, or you just can't find a gym that you love, sometimes staying at home to get your sweat on is the best option for you.
So, if you want to keep up with your spinning or work towards some new fitness goals, consider using a spinning app instead.
With any of these apps, you'll soon forget that you're working out from home instead of the gym.